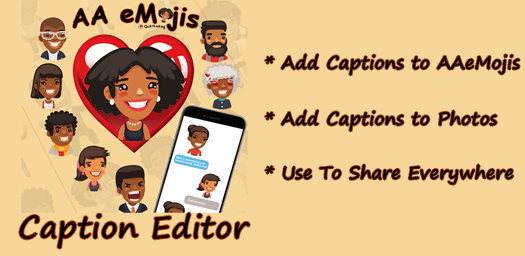 AAeMojis Caption Editor App



AAeMojis Caption Editor for Android lets you add your own caption or comment to photos or to larger emojis that come with our separate AAeMojis app in the Play Store. African American emojis (AAeMojis for iOS or Android) are 137 stickers with a variety of genders and ages. Sample emojis are in this editor. You'll find 17 optional filters to use so you can shade your final image anyway you want.


You'll definitely need and want the AAeMojis Caption Editor for Android to quickly add your own edge or personality by writing your own text on the emojis or on photos. Within the app you can also use your camera to take a picture or use an existing photo from your phone gallery. You can also select the gallery from the original AAeMojis app (we hope you have it) if you created the gallery as instructed. Combine the image with an emoji to create the perfect expression.
Place captions on your photos
Place AAeMojis on your photos (sample emojis included)
Place captions on AAeMojis (using the separate AAeMojis app gallery not included)
Take photos inside the app using your phone camera
Share your creation on social media
Extremely easy to use
One thing we didn't mention in the first how-to video but did explain in how-to part two. You can use the broom (circled in red below) to clear text, a filter, or an emoji. The broom will not remove an image you added from a gallery to the editor.


All saved images are square, so they are just right to upload to your favorite social media spot.


AAeMojis Caption Editor includes 8 different font styles so your text will really stand out big time! Of course you can color the text with unlimited hues. Once you've selected your image, you'll love how easy it is to use this app with just four simple buttons:
Emoji selection
Filter
Text
Save
After the image is saved you can then share with your friends or family from inside the app. We created this app by popular demand. Get it now and start adding your own shout-out captions using this cool tool!